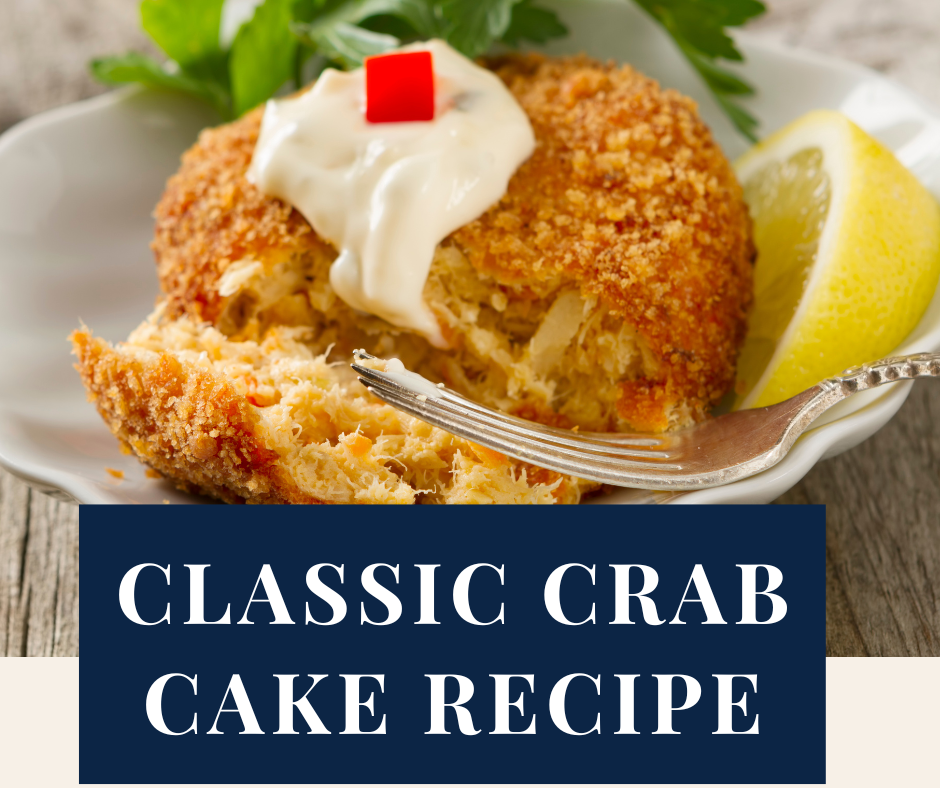 Homemade Crab Cakes are a treat for any occasion and this classic Crab Cake Recipe is no exception. Whether cooking for a group or your spouse, what better in-home gourmet experience than the sweetness of NC Lump Blue Crab meat. Savor the treat of Fresh Lump Crab meat in this classic Crab Cake Recipe perfect for any weekend meal.
Crab cakes made with Fresh Lump Blue Crab meat are one of our favorites here at Madden's Seafood. The salty sweetness of the NC Fresh Blue Crab meat pairs perfectly with the breadcrumbs and seasonings to create a delicious cake. Crab cakes make a wonderful entree by themselves or a sandwich on a crispy, toasted bun. This Classic Crab Cake Recipe is simple and combines ingredients you should already have in your kitchen. Treat yourself and your family to these delicious Crab Cakes this weekend!
What kind of Crab Meat is best for Crab Cakes?
Lump and Jumbo Lump Crab meat are both popular choices for at-home crab cake recipes. For this recipe we prefer Lump Crab meat as it is still sturdy enough for chunky crab cakes and still very flavorful. Jumbo Lump is also a great option for Crab Cakes as it offers heartier chunks and the most prized portion of picked Crab meat. Jumbo Lump is usually the most expensive option of picked crab meat as well, Lump Crab meat is a little easier on the pocket book making it our Crab Meat of choice for this recipe.
Is it better to Bake or Fry Crab Cakes?
There are positives and negatives to both cooking methods. Baking is more common and it is easier to ensure the Crab Cakes remain together. Baking is simpler and the Crab Cakes can be less prone to drying out versus cooking in a frying pan. The downside to baking crab cakes in the oven is that the sides of the crab cakes don't get quite as crispy as they do in the frying pan. The largest benefit to pan frying Crab Cakes is the delicious crispiness you get on the sides of each crab cake. The crab cakes can tend to fall apart a bit when attempting to flip them in the pan. Another risk to pan frying crab cakes is they may dry out as cooking the crab cakes thoroughly is more challenging than in the oven.
What kind of sauce goes on Crab Cakes?
There are many different toppings and dipping sauces that work well alongside this delicious Crab Cake recipe. Tartar Sauce, Cocktail Sauce and Remoulade are three of the more popular sauces to grace these delicious crab meat delights. Tartar sauce adds a creamy and tangy crunch with the mayonnaise, pickle relish and spice combination. Cocktail Sauce is the classic tomato and spice based sauce that is a classic combination alongside any seafood and especially crab cakes. Remoulade is a French inspired sweet and tangy dipping sauce very common in New Orleans. Similar to Tartar sauce, Remoulade is a mayonnaise base alongside other spices such as horseradish, paprika and even anchovies. No matter which sauce is your favorite, you can't go wrong with the combination alongside this delicious crab cake recipe.
Here is a link to one of our favorite Homemade Tartar Sauce Recipes: Tartar Sauce Recipe
What You'll Need To Make This Crab Cake Recipe?
1 lb NC Lump Blue Crab Meat

2 large eggs

3 tbsp Mayonnaise

1.5 tsp Dijon mustard

1 tsp Worcestershire sauce

1 tsp Old Bay seasoning

¼ tsp sea salt

2 tbsp chopped parsley

½ cup Panko breadcrumbs
How To Make This Classic Crab Cake Recipe
Begin by combining the Eggs, Mayonnaise, Worcestershire sauce, Old Bay, and parsley in a large mixing bowl

Mix the ingredients together well

Add the Lump Crab meat and Panko breadcrumbs to the mixture

Gently fold the mixture, including the Crab Meat, together. Make sure to not stir too vigorously as this could cause the crab meat to become shredded

Form the mixture into 6 equal sized Crab Cakes (around ½ cup each) and place on a baking sheet lined with parchment paper or another non-stick material

Refrigerate for at least 1 hour to allow for the Crab Cakes to set

Preheat the oven to 450 degrees

Once the Crab Cakes have set in the fridge, remove them and place them in the preheated oven for 12-14 minutes. You will be able to know when the Crab Cakes are done when the begin to turn golden brown around the edges and on top

Remove from the oven once the edges and tops are golden brown and serve immediately. Serve alongside lemon wedges and your favorite dipping sauces

Enjoy!
Closing Thoughts
This Crab Cake Recipe is a staple here at Madden's Seafood. The simple ingredients and freshness of the NC Blue Crab Lump meat is the star of the show. Serve these crab cakes as an entree, an appetizer or even freeze some for future meals. Grab a tub of NC Blue Crab Lump Meat this week and treat your friends and family to this amazingly delicious Classic Crab Cake recipe.
See you at the Stand!