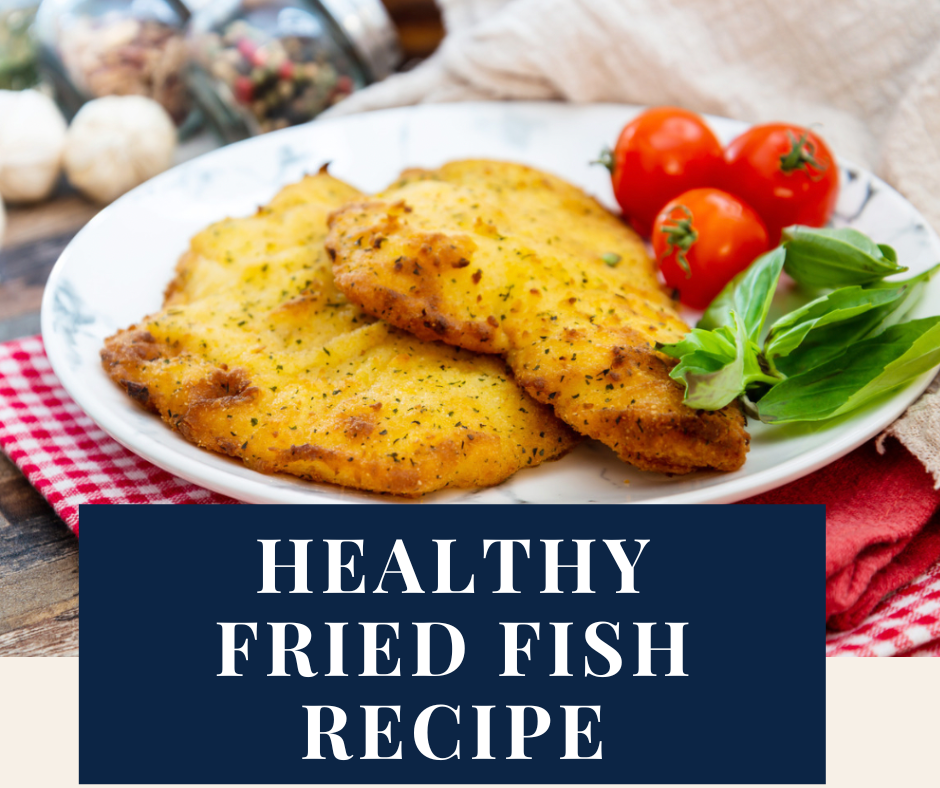 Madden's Healthy Fried Fish
We want to feed our family healthy and nutritious meals just like we know you do. Healthy and nutritious is not always the same as delicious. We have just the recipe for your family! Madden's Healthy Fried Fish is not only delicious, but it is low carb, high protein and packed with lots of healthy fats. There are also many different options in how to cook this Fried Fish recipe either pan fry in oil or in an air fry. Our preferred method is pan frying the fish in Avocado oil, but there are many options that can fit any preference.
What types of fish are best for cooking Fried fish?
When choosing the type of fish for frying we recommend selecting a firm white fish such as flounder, grouper, cod or catfish. If you will be pan frying the fish in hot oil or cooking the fish in an air fryer it is good to cut the fish fillets into thinner pieces to allow for even and thorough cooking throughout. When making Fried Flounder we prefer to keep the skin on the fish, but the option is yours to keep the fish skinless or not. There are many Grouper recipes and this fried fish recipe is a perfect option for making Healthy Grouper Bites for a crowd pleasing appetizer. 
To Pan Fry or to Air Fry…That is the question!
The beauty of this recipe is that there are many different methods you can use to cook the fish after you have dipped in egg wash and breaded. Our two favorite methods for Healthy Fried Fish are pan fry in oil (olive or avocado oil) or air fry (in an air fryer). If you have not tried avocado oil for frying we would recommend it, it has a buttery, rich flavor that gives this fried fish recipe a mouth watering taste. If you prefer to use the air fryer we recommend cooking at 390 degrees for about 12-15 minutes. You should flip the fillets over about half way through their cooking time.
How hot should your oil be for Fried Fish?
One of the biggest challenges with fried fish recipes is burning the breading on the fillets. Make sure to not get the oil too hot before placing the breaded fillets in the oil. We recommend cooking on Medium heat. You will have to test your own stove to determine the ideal temperature to make this fried fish recipe. Always start off a little bit cooler and you can always increase the temperature as needed.
Healthy Fried Fish Ingredients
1 Egg

½ cup Almond Flour (

We recommend this type of Almond Flour

)

1 ounce Parmesan Cheese finely grated

1 tablespoon Dried Parsley

1 Lemon zest only

½ teaspoon Salt

¼ teaspoon Pepper ground

1 lb fillets Firm, White Fish

Oil for frying (We recommend Avocado Oil)
How to make Healthy Fried Fish
Begin by patting the fish fillets completely dry. Excess water on the fish fillets causes the oil temperature to lower and can create uneven cooking. 

We recommend cutting the fillets into smaller pieces around 2 inches by 4 inches in size for the perfect Ensure fillets are of relatively the same thickness and cut any fillets in half that may be too thick to fry all the way through. For Grouper bites, cut the fish into cubes or small pieces about 1-1.5 inches in thickness each.

Crack the egg in a bowl and whisk until it has an even consistency.

In another bowl mix together the Almond Flour, Parmesan Cheese, Lemon zest and spices. Make sure the breading is mixed together well.

Add the oil to your pan. You want to have enough oil in the pan to cover the fish up to about ⅓ its height. Bring the oil to temperature by setting the stove to medium heat. Pro Tip: Insert a wooden spoon in the oil and the oil will begin to bubble around the spoon if the temperature is warm enough. If you have a thermometer the oil temperature should be between 300 and 325 degrees.

Dip the fish fillets in the egg wash until the entire fillet is evenly covered.

Place the fillet on a plate and sprinkle the breading mixture on top of the fillet. Flip the fillet over and repeat on the other side. We prefer this method to dipping into the breading mixture as it prevents the mixture from getting clumpy.

Gently place the fillets in the oil and cook until golden brown on each side. It should take between 4 to 7 minutes per side depending on the thickness of the fish.

Allow the fillets to sit on a cooling rack or a paper towel for a few minutes to allow excess oil to drain off.

Serve with hot sauce or tartar sauce and lemon wedges. Enjoy!
Closing Thoughts
You can make a delicious and exciting recipe without having to make it unhealthy. One of the best parts of this fried fish recipe is you can try it with so many different varieties of fish that all offer a little different taste and consistency. One recipe, yet there are so many options! Check out our availability of Fresh Fish this week and try frying up some Healthy Fried Fish for your family!
See you at the Stand!