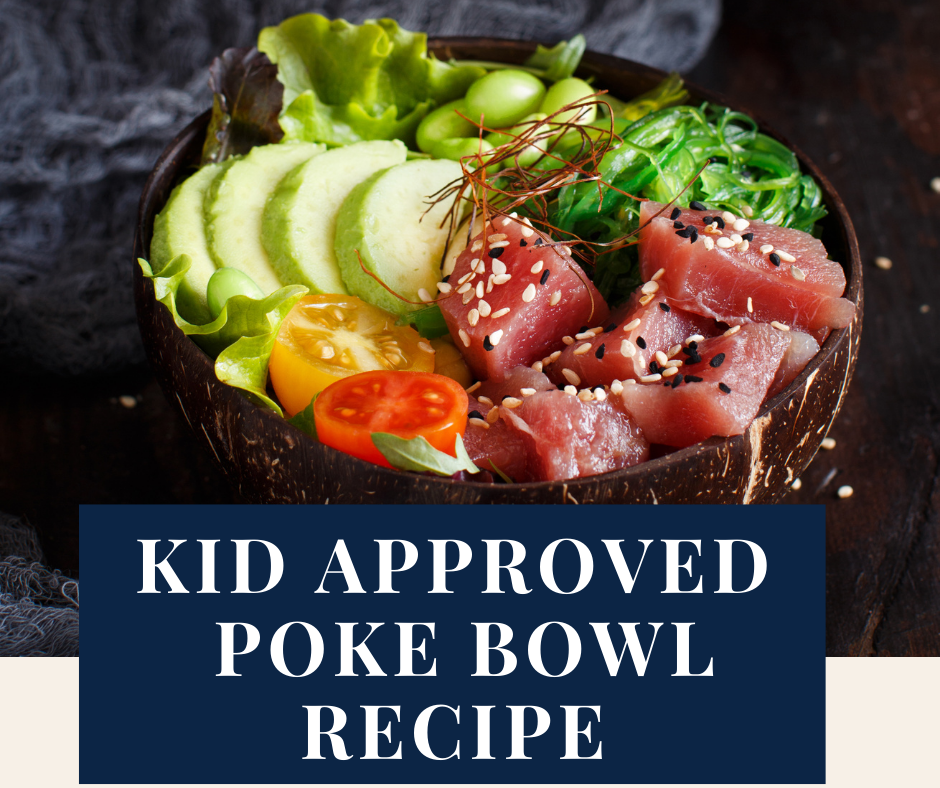 Kid Approved Tuna Poke Bowl Recipe
A Poke Bowl is a delicious flavor and color combination that allows all of us to create a work of art with our food. The simplicity of the recipe is only outdone by the final outcome of creating your very own culinary masterpiece. Yellowfin Tuna (also referred to as Ahi Tuna) is the seafood star of this dish. Beautiful red flesh, high fat content and freshness you can taste is what allows this Tuna Poke Bowl recipe to be an entire family favorite regardless of age.
Being parents we know how challenging it can be to get your kids to try new foods. Finding creative and fun options to introduce healthy, hearty meals with your family can at times prove challenging. Thankfully we have a seafood meal that is not only quick to prepare, but fully kid approved!
Think of a make your own burrito shop but with fresh, delicious seafood. Kids are able to pick their choice of colorful toppings and surround it with healthy, fresh seafood protein.
Your kids will love the endless choice of healthy toppings they can add and you will love all the healthy nutrients they are consuming.
What is a Poke bowl?
Poke is a recipe hailing from the Hawaiian islands that includes diced, fresh raw fish (primarily Ahi/ Yellowfin Tuna) massaged with seaweed and sea salt. Poke actually means 'to slice', which is how the raw fish will be prepared to put into the Poke bowl along with the toppings. The Poke Bowl is a more modern adaptation of the ancient Poke preparation method. As different cultures immigrated to the Hawaiian islands they brought new ingredients such as soy sauce and sesame oil which was added to the Poke recipe to marinade the raw fish. A Poke Bowl is usually composed of a base layer of rice, marinated chunks of ahi tuna, diced fresh vegetables, seaweed salad and avocado. 
What is usually in a Poke bowl?
The Fish 
Yellowfin Tuna (Ahi tuna) is our recommendation for this recipe. Salmon is also a delicious option instead of Yellowfin Tuna if you prefer Salmon
The Marinade
Simple ingredients that lead to big flavor! Soy sauce, Rice Wine Vinegar and Sesame oil create a delicious marinade for the Yellowfin Tuna.
The Toppings
Diced cucumbers, shelled edamame, shredded carrots, seaweed salad, pickled ginger, avocado, the topping combinations are endless. Not only does this recipe taste delicious, it is also aesthetically pleasing due to all the color combinations. Kids really love to create their own edible art and fully customize their Poke Bowl to their own taste.
The Base layer
We recommend using white or brown rice for the base for your Poke bowl, but you can go without for a low carb option with shredded lettuce or try to add in a superfood grain such as quinoa. 
Ingredients
-1 lb of sushi grade yellowfin tuna
-¼ cup of low sodium soy sauce (tamari can be used as a substitute if preferred)
-2 tsp of rice wine vinegar
-2 tsp sesame oil
-1 tsp of freshly grated ginger
-1 tsp sesame seeds
-½ cup diced green onions
-Cooked white or brown rice
-Toppings can include: Cucumbers, avocado, shelled edamame, pickled ginger, radish, red onions, celery, seaweed salad, mango, watermelon, among many more options
How to make a poke bowl
Cook the rice (To make things even simpler you can use a countertop rice cooker, here is a model we recommend on

Amazon

from Aroma Housewares)

Dice the tuna and marinade for at least 15 minutes in the poke sauce

Prepare your toppings

Layer your bowl with rice, add chunks of marinated yellowfin tuna, add your desired toppings and enjoy!
Closing Thoughts
We all want to feed our families quality meals, but getting kids to try new foods can be a challenge at times. A Poke Bowl is a great way to introduce fresh seafood into the diet and allows them artistic freedom to create a culinary work of art. Yellowfin Tuna that is as fresh as we serve at Madden's Seafood makes for the best Poke Bowls at home.
Check out Madden's Yellowfin Tuna and share the gift of fresh seafood with your family!
See you at the Stand