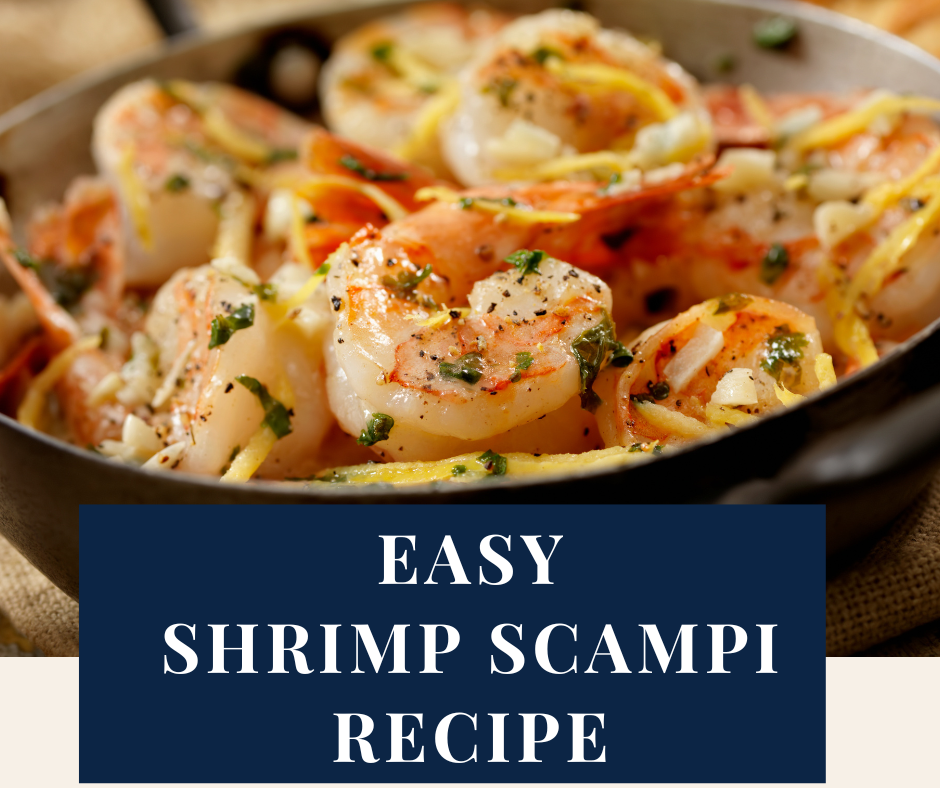 Easy Shrimp Scampi Recipe
Shrimp Scampi is a flavorful seafood staple that feels elegant even though it is so simple to make. This Shrimp Scampi Recipe is perfect as an entree over pasta or as an appetizer with crusty french bread. The simplicity of this Shrimp Scampi recipe is only outdone by the flavorful ingredients the recipe includes. The Classic Shrimp Scampi recipe pairs plump Jumbo Shrimp with a delicious sauce of butter, garlic and white wine.
What is Shrimp Scampi?
Scampi are actually tiny, lobster like crustaceans that are native to the Mediterranean ocean. Scampi were used the original version of this recipe. Scampi look very similar to shrimp, but they are actually part of the Lobster family. As Italians immigrated to the United States, it was difficult to source the original ingredient of Scampi, so they began substituting Shrimp instead and Shrimp Scampi was born!
Traditional Shrimp Scampi is prepared by cooking shrimp in a garlic butter sauce and serving over pasta such as angel hair or linguine. Shrimp with pasta is always a simple and elegant way to prepare fresh shrimp. Did you know that Shrimp Scampi can be great as an appetizer as well?? Serve with toothpicks or over crusty Italian bread to make a splash at your next dinner party. Shrimp Scampi is one of the most popular shrimp pasta recipes.
What is the Shrimp Scampi Sauce made of?
Shrimp scampi sauce is a base mixture of butter, garlic and white wine. Some Shrimp Scampi recipes call for more exotic spices and red pepper. If you have a preference for spice adding more crushed red pepper flakes will ratchet up the heat while still savoring the delicious buttery, garlic sauce of the Shrimp Scampi. The Shrimp Scampi sauce is what makes it one of the more popular shrimp with pasta recipes as the noodles soak up the savory sauce.
What goes best with Shrimp Scampi?
Shrimp scampi is commonly served over pasta such as angel hair or linguine. There are plenty of other great options as well for serving Shrimp Scampi. You can serve it as a stand alone appetizer or offer some crusty bread for a nice dipping option and crunch. For an even healthier option, serve over a bed of fresh, steamed vegetables.
Ingredients you will need for Shrimp Scampi
- 1 lb Madden's Jumbo Shrimp
- 4 tbsp unsalted butter
- 4 cloves of garlic, minced
- ½ cup dry white wine
- 1 tsp kosher salt
- ¼ tsp crushed red pepper flakes
- ¼ cup chopped parsley
- Juice from ½ of a lemon
- ⅛ teaspoon black pepper
How to make Shrimp Scampi
Making a restaurant quality meal at home doesn't have to be complicated. This Shrimp Scampi Recipe can be prepared in under 30 minutes and with only a few simple steps.
1. Begin by patting the shrimp dry and toss them with olive oil, season with sea salt and add half of the garlic. Allow the shrimp to marinate for around 15 minutes.
2. In a large skillet begin to melt the butter with olive oil. Add the minced garlic and saute for about a minute and the sauce becomes more aromatic.
3. Add the white wine, salt, red pepper flakes, and black pepper. Bring the sauce to a simmer while stirring to ensure even mixture of ingredients. Allow the white wine to reduce by half which will take around 2 minutes.
4. Add the shrimp and begin to saute in the garlic butter sauce until they turn pink on each side, it should take around 2-3 minutes per side.
5. Add the lemon juice and parsley while stirring to ensure even mixture of spices for all the shrimp.
6. Serve over pasta or as an appetizer accompanied by crusty french bread.
Closing Thoughts
Shrimp Scampi is one of the most popular ways to prepare shrimp. This Shrimp Scampi recipe is a great addition to any seafood lovers cooking rotation as it is quick, simple and most importantly delicious. There are so many different ways to prepare Shrimp Scampi and this is our favorite recipe. No matter if you are preparing as a full meal or an appetizer for your next family gathering, using the freshest ingredients such as Madden's Jumbo Shrimp makes every recipe taste even better!
See you at the Stand!