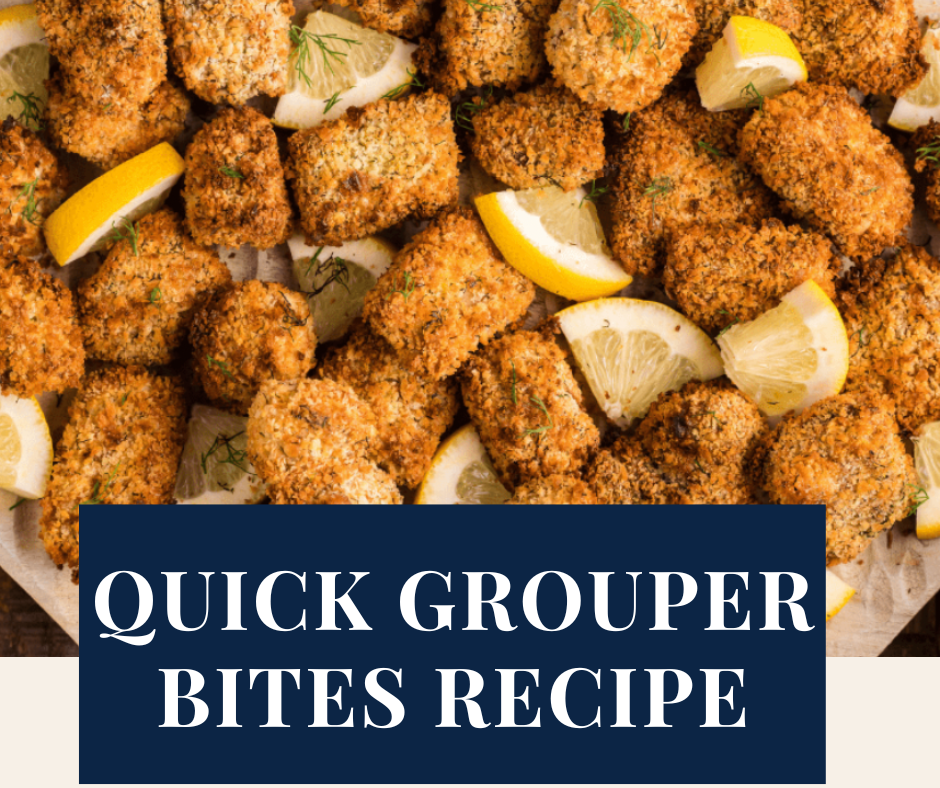 Quick Grouper Bites Recipe
Grouper is one of our favorite fish to cook and serve here at Madden's Seafood. The firm and sweet flavor profile of Grouper lends itself to a variety of cooking methods. One of our favorite ways to prepare a quick and delicious weekend appetizer is Grouper Bites. This Grouper Recipe can have a restaurant quality dish ready in under 20 minutes!
Grouper Bites are a grown up version of Popcorn Fish nuggets. This Grouper Recipe packs hearty bites of sweet and firm fish that is sure to be a crowd pleaser at your next gathering. These Grouper Bites can be made quickly and prepared for any size guest list.
Is Grouper a healthy fish?
Grouper offers many nutritional benefits as it is high in protein and low in fat. These thick and firm textured fillets contain a high concentration of vitamins and Omega-3 fatty acids making it a great addition to a healthy at home meal.
How is grouper supposed to be cooked?
Grouper can be prepared in a variety of different styles. Some of our favorites include pan fried bites or directly on the grill. Grouper has a mild flavor and tender texture which pairs well with sweet or savory seasoning blends. Because of the quality and freshness of the fish, we prefer to use basic seasoning methods to allow the natural flavor of the fish to be the star of the dish.
Pan seared and baked are two other popular preparation methods. For Pan Seared (similar preparation to Grouper Bites), we recommend removing the thick grouper skin and seasoning with Blackened seasoning. Searing on both sides leads to a delicious outer crust while keeping the inner portion of the fillet tender and juicy. When looking for a baked Grouper recipe, preheat the oven to 350 degrees, season with your favorite seafood seasonings and bake for around 15-20 minutes. Adjust your baking time to account for the thickness of your grouper fillets.
Do you leave the skin on grouper?
Choosing to leave the skin on your grouper fillet is a personal preference, but for this Grouper Recipe you must remove the skin. Depending on the cooking method will depend on if you should remove the skin prior to cooking or not. When cooking on the grill or baking in the oven we prefer to leave the skin on grouper as there is a lot of flavor between the fillet and where it connects with the skin.
For Grouper Bites, you will be cutting the grouper fillet into small 1 inch bites so you should remove the fillet prior to cutting the fillet into bites. The same would go if you are going to be pan searing the grouper fillet as the thickness of the skin will make it difficult to cook the fillet thoroughly throughout.
Ingredients for Fried Grouper Bites
- 2 lb of grouper
-2 cup of flour
-2 eggs
-½ cup water
-1 tbsp seasoning salt
-2 cups italian style breadcrumbs
-Oil for frying (we recommend Avocado or Vegetable oil)
How to Cook Fried Grouper Bites
Cut the Grouper fillets into 1 inch by 1 inch chunks or 'Bites'

Gently season the Grouper chunks with the seasoning salt and set the chunks of fish aside

Crack the two eggs and add the water into a bowl and whisk together until the mixture is evenly mixed together

Pour the flour into a medium sized mixing bowl, this will be used to dredge the Grouper Bites in

In a second bowl, pour the breadcrumbs into and set aside

Turn the stove to medium high heat and pour enough oil into the pan to reach around 2 inches in height

Begin by dredging the Grouper chunks into the flour. Make sure to coat each piece of fish thoroughly and shake off any excess flour

Dip the Grouper chunks into the egg mixture and ensure the pieces are entirely coated, allow any excess egg mixture to drain off

Dredge the Grouper chunks into the breadcrumbs and shake off any excess

Gently place the chunks of Grouper into the oil once it has come to temperature and fry on each side for around 3-5 minutes on each side or until each side is golden brown

Place fried Grouper Bites onto a plate covered by a paper towel after cooking to remove any excess grease while the Bites cool

 Serve with your favorite dipping sauces and enjoy!
Here is a link to a great homemade Tartar Sauce recipe --> https://www.foodiecrush.com/tartar-sauce/
Closing Thoughts
Grouper is one of the most sought after varieties of fresh fish. The mild, sweetness and firm texture is why Grouper is such a popular selection here at Madden's Seafood. This Grouper Recipe is quick, simple and delicious! Grouper Bites are the perfect addition to any weekend meal. Order fresh caught Grouper this weekend and show off your culinary skills.
See you at the Stand!